She's an amazon and her name is 6ft Phenom, and she's certainly phenomenal with a whole lot of curves and a big fat ass! This blonde rocks out for PAWGED, showing off those luscious curves in a scene where she gets to devour big Black cock. This big booty blonde is a whole lot to love now only in her fat juicy ass, but she's 6feet of bonafide babe ready for you to devour. We think you'll want to devour every inch of her, unless all you're looking for is some booty. However, this big PAWG knows how to work every inch of her body, and she certainly knows how to rock cock!
We start watching 6ft Phenom show off her huge tits and fat ass in lingerie. This Amazon babe is 6 feet of beauty, with some sexy black lingerie and a gorgeous face to seal the deal. She's definitely a MILF, with mature curves, long blonde locks and a few tattoos as icing on the cake. However, we know you're looking for big PAWGs and this blonde beauty seems to have the ultimate ASSets.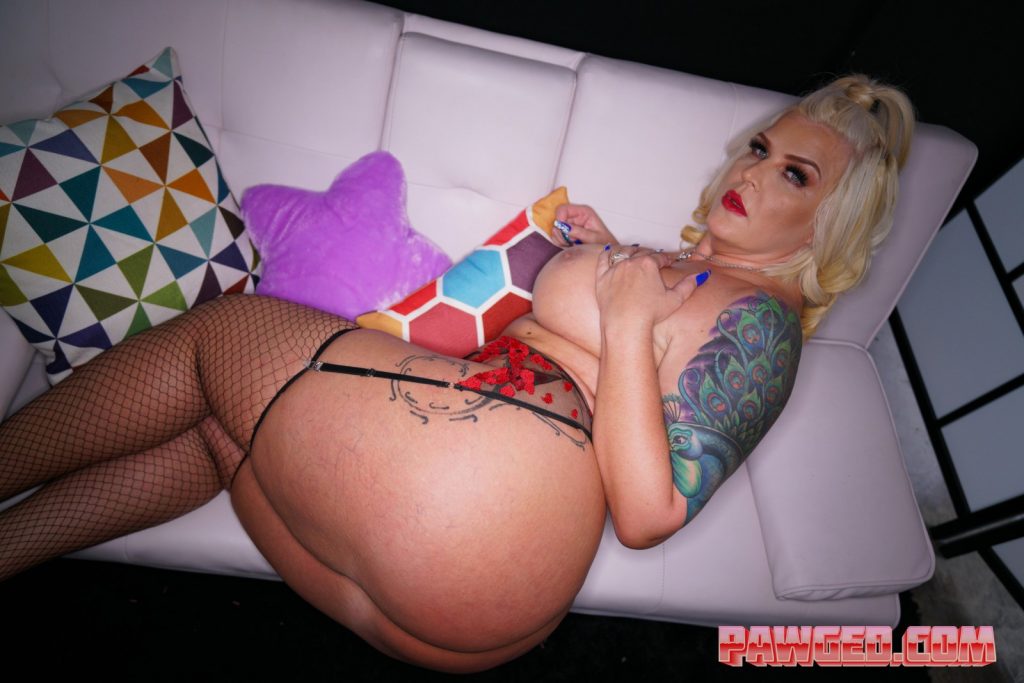 Big Booty Amazon Babe Takes BBC
6ft Phenom is nothing short of phenomenal, which she clearly demonstrates in her pre-fuck tease. The gorgeous blonde shakes that fat ass with expert level skills, and allows you to study her body inch by inch. Not only will you be able to happily stare at her luscious fat ass, but her fishnet stocking, big tits, and stunning face add more to her allure. She bends over showing off her jiggling ass, while she eagerly awaits some attention.
Profoundly beautiful, 6ft Phenom gets her ass oiled up by her scene partner. He's eagerly enjoying her luscious ass while she bends over for him, ready to make that ass glisten. The stunning blonde gets right on the couch, bending over to allow him to get all up in her ass, thighs and her pussy while he works that thong off her juicy ass.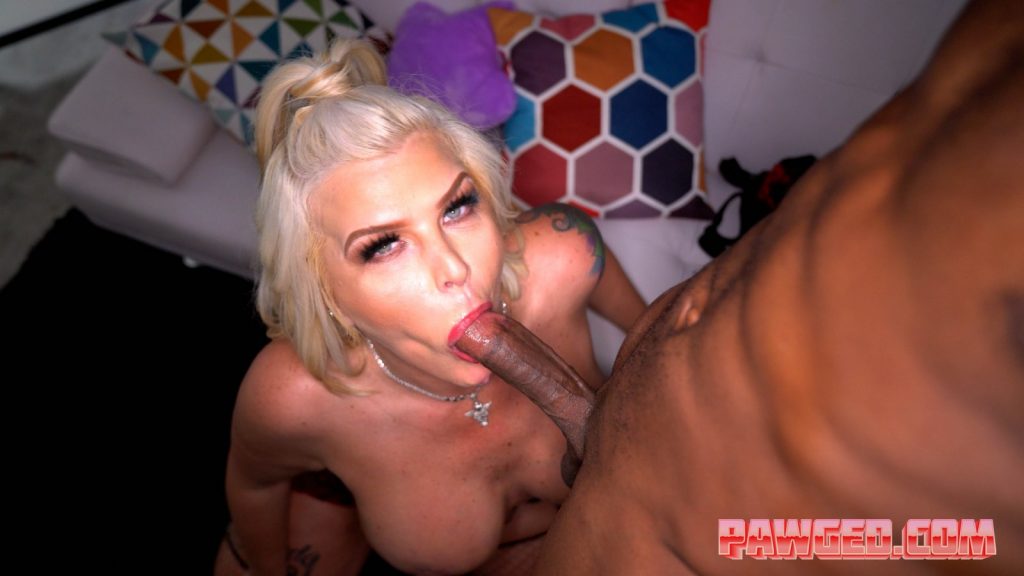 6ft Phenom Hardcore with Big Black Cock
Finally, the thong is off, and 6ft Phenom is getting friskier by the minute! She continues to jiggle that big fat ass as long as her partner wants to worship it. He spanks and plays while you get peeks of her luscious pussy from between her thighs. The banging hot blonde is enjoying the tease, as oil drips all over her curves. The oily massage builds her up. It isn't very long until this naughty babe is more than ready to take the big black cock she's been craving.
After a long, drippy session where 6ft Phenom ends up glistening completely, she's finally ready. This blonde vixen first bends over to receive cock for the first time in this scene. She's already been warmed up and fingered, so she's more than ready to have that huge cock slide in. She grunts and groans with pleasure while he pushes her to the peaks of satisfaction. That fat ass jiggles even better when she's getting pounded from behind!
Get a taste of raunchy blonde babe 6ft Phenom now over at PAWGED!