Your eyes will go nowhere else when you see Blondie Fesser in this scene for PAWGED! This scorching hot blonde PAWG looks like a slice of heaven in a tight top and tiny shorts. One look at her will have you fully enthralled with her fine hourglass figure, as she works to tease you with her big tits and ass. This girl has curves in all the right places, giggling as she works to tease. And what do you know? She can even make her big titties clap!
Blondie Fesser is thick, happy to show off her thigh thighs and huge ass! Those tight shorts have no choice but to get sucked into her big ass cheeks while she twerks for the camera. This beauty smacks and claps that ass so much, you'll practically be begging for her to finally strip them down. She takes her time to tease, and makes sure you get a full view in every shot!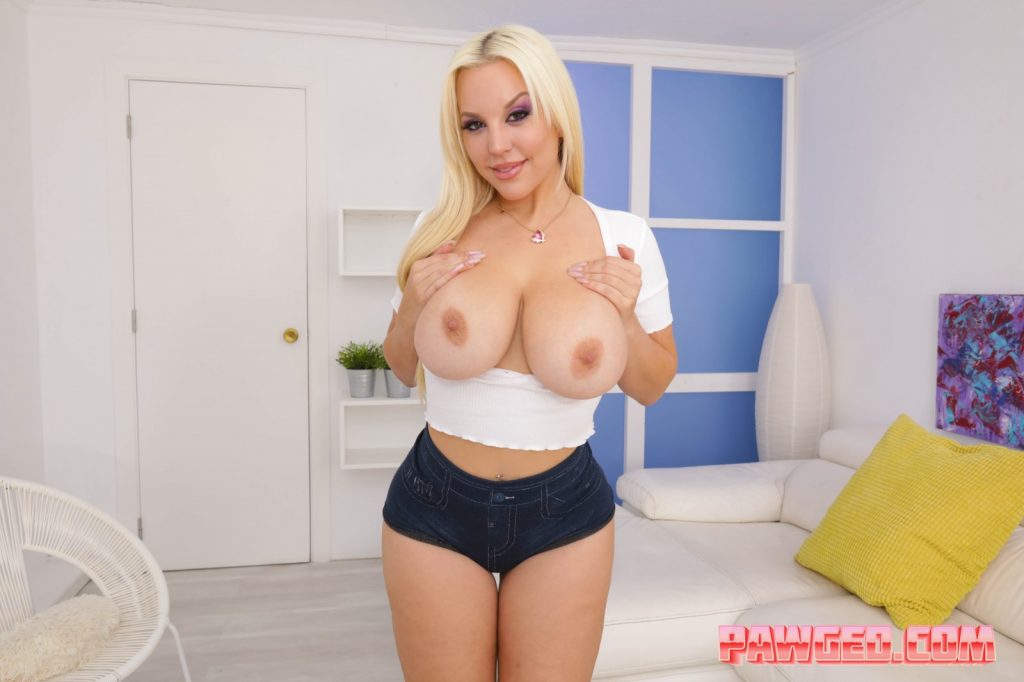 Blonde PAWG Twerks To Tease
Slowly, Blondie Fesser works her shorts up her fat ass and eventually down her thick thighs. You can practically see exactly how wet she's getting, growing more and more horny with her tease. She finally asks to have her cold ass warmed up, tempting you to be the one that gives her the spankings this blonde PAWG so desperately craves. Emilio enters the scene, hungry for that incredible ass, and armed with oil to get it glistening while she's spanked.
Blondie Fesser continues to giggle and twerk as her ass gets oiled up right in front of the camera. Her fat ass glistens over every curve, and she's getting hungrier for cock! Emilio's cock is rock hard with this babe in front of him, so soon this blonde will get exactly what she craves. This man is happy enjoy this blonde PAWG as she slips off those shorts and gets her hands on his raging hard cock. With a little lick, she begins her blowjob and slips her big tits out!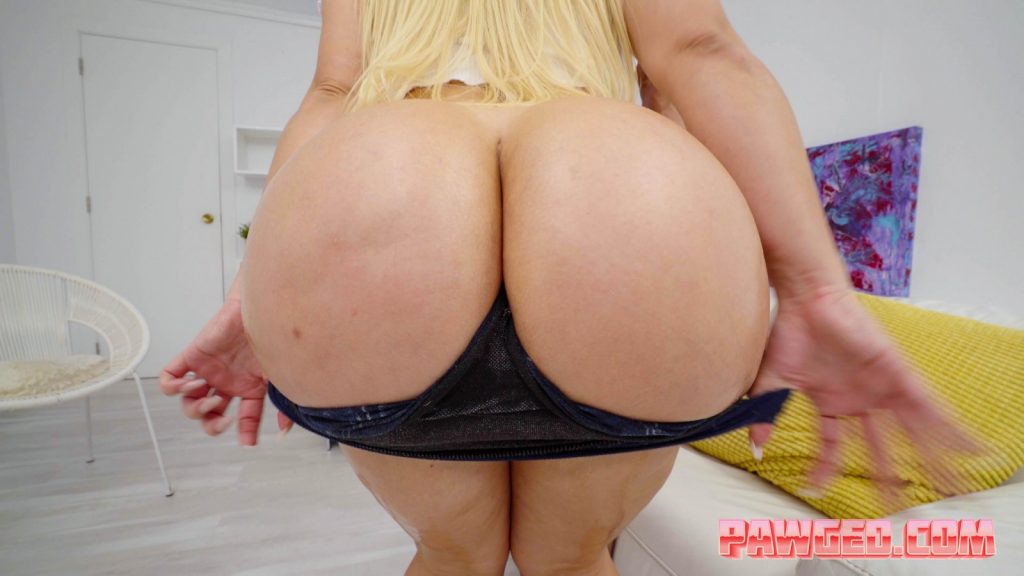 PAWG Blondie Fesser Needs Hardcore Railing
Blondie Fesser wraps up her sloppy blowjob with more than a few gags, waiting to receive pleasure of her own. This blonde PAWG earned some extra special attention with the work she put in, and Emilio is more than happy to give her the railing she craves! She bends right over, showing off that glorious ass as he prepares to slide right inside her lubed up pussy. The gorgeous blonde enjoys how thick he feels in her tight pussy, and he is not gentle with this exotic babe! We were glad to see that handles the deep dicking like a champ, ready to cum while he chokes her.
Watching Blondie Fesser's big booty bounce while he grinds is a dream you'll wish you could indulge in. Emilio takes this blonde PAWG in every position as her pussy grows more and more slippery, and she loves every minute!. Each time they switch, you'll get to enjoy that big fat ass bounce and get spanked hard. This blonde is loving the deep penetration as she rides harder and harder to make sure her pussy gets the satisfaction she deserves!
Watch Blondie Fesser get hardcore now now at PAWGED!