Feisty as ever, a violet-haired Mz Dani show off that beautiful tattooed ass, and shows us why she's a PAWG! This thick ass MILF has got curves that work harder than you do, showing off her wide hips for the camera. She rocks a perfect hourglass, amplified by her colorful bikini. This PAWG isn't going to be along for her scene, but she'll take her time to tease before she takes a big cock in this scene for PAWGED!
Lovely Mz Dani slips off her bikini bottoms and gives us more! She drizzles oil over that glorious, wide ass of hers, and twerks more as she leans against the wall. This thick vixen loves showing off, and finally slips off her bikini! This tattooed PAWG is every bit as seductive as you may desire, and you'll want more and more of her tasty curves as she goes. And let us say, this MILF definitely has some incredible skills in that department! You'll get flashes of her shaved pussy as she twerks on all fours. Her ass glistens, making the view even better!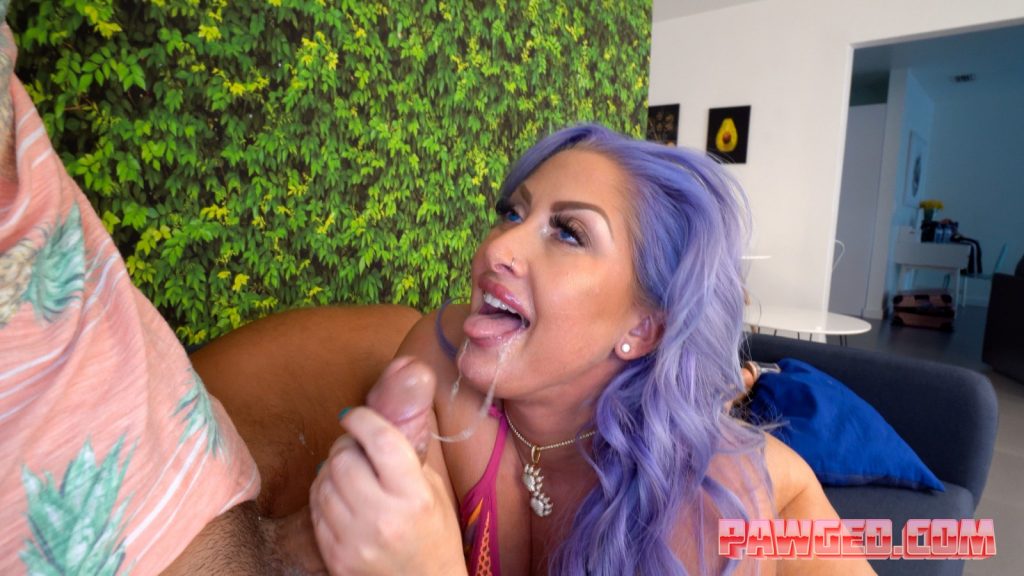 Tattooed PAWG Plays with Shaved Pussy
Before Mz Dani ever gets a chance to play with some cock, she teases and tastes her pretty shaved pussy. It's even better, shaved and pierced, and this horny thick girl is all ready to receive pleasure from her partner! We transition into a scene with the tattooed PAWG is laying spread eagle on a couch. Her big ass waves like a waterbed, as she awaits her partner. When he creeps in, he goes directly for that juicy ass, running his hands over it while it glistens with oil.
Foreplay begins, and Mz Dani gets her fatass played with! This is pleasurable for him, too! Obviously, who wouldn't want to join in on the fun with this thick vixen? This tattooed PAWG gets things started by leaning over his hard and ready cock, and slurping him up. She gags and shakes her ass, making herself the perfect blowjob fantasy! She really makes it nasty, smothering his cock with spit.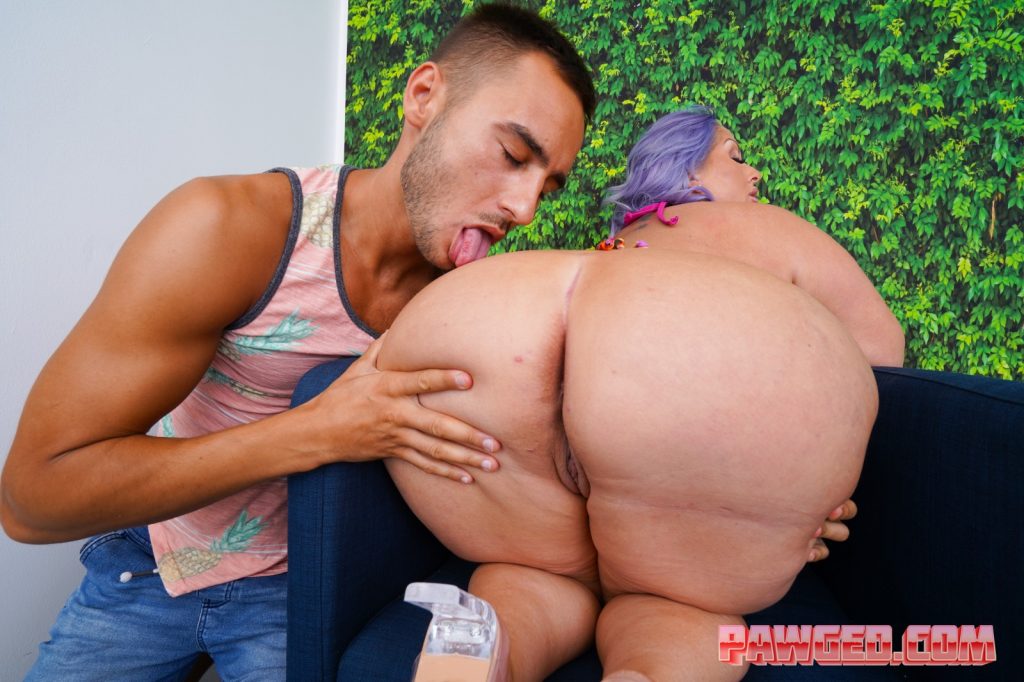 Mz Dani Fucks Like a Goddess
After a super sloppy blowjob, Mz Dani is ready to give up some more! She's so hot and horny with a big cock diving deep in her throat. Her wet pussy begins to get more and more eager for cock! She bends over doggystyle showing off that big ass, which her partner happily indulges in! He slides directly into her tight pussy while she moans from each thrust. You can see her juices flowing while she's banged hard, and he really makes sure that fat ass keeps jiggling.
Mz Dani gets railed with a smile on her face! That's a joy to behold! That fat, juicy ass is bouncing so beautifully while he thrusts inside of her. She keeps it nasty with lots of dirty talk! She loves the taste of her own juices on his cock and happily takes his cock in her mouth one more time.
You can watch this tattooed PAWG Mz Dani Now, at PAWGED!