At first, brunette PAWG Agatha Ludovino isn't so sure about fooling around in this club. She's surrounded by people, looking glam for her night out. She's wearing a slinky gold dress that shows her natural tits very well. It's no wonder she's got dick in her face without even trying. Her friends are encouraging her to grab hold of the big cock in front of her, and she starts out feeling a bit insecure. It's not every day she sucks cock in the middle of a club, but that changes for this PAWG Next Door scene!
Once Agatha Ludovino loosens up, she really starts working harder on that cock. The tattooed freshly minted exhibitionist is down to have some filthy fun, and we loved every minute watching it unfold. She may giggle between spitting on his cock, but she's down to deep throat in public. Her pussy's getting wet, her head is bobbing, and now she's committed to this act of pure exhibition. This brunette PAWG can't stop now! She's already committed!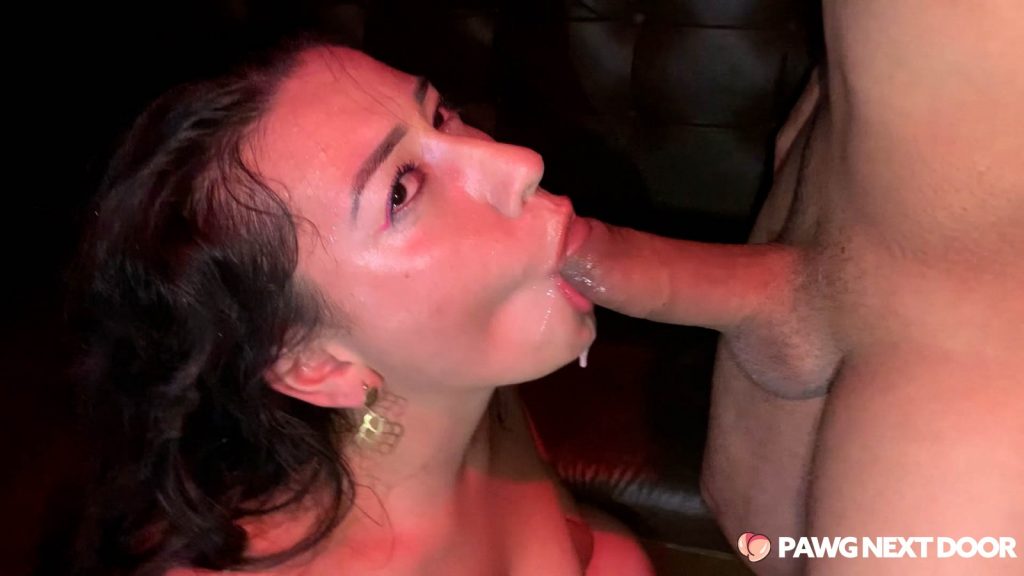 Brunette PAWG Sucks Dick in Public
After a few pumps down her throat, it's time to get a little freakier with Agatha Ludovino! The stranger-turned-partner takes a seat, and she bends over showing off that huge luscious ass. Her booty is eating up those panties, and you can see that she's growing wetter and wetter by the minute. When their spectators get closer, wanting to see the action unfold while this brunette PAWG gets freaky in public.
Now everyone gets an eyeful of Agatha Ludovino's trimmed pussy getting eaten out! She's clearly soaking wet, and her partner is ready to slip his cock right inside of her. He exposes her natural tits as he pounds her right then and there. The camera catches every bit of Agatha's expressive orgasmic face in such a gritty scene. She starts rubbing her clit while he goes, with her spit lubed pussy. Soon this brunette PAWG will have her first orgasm right on the dance floor.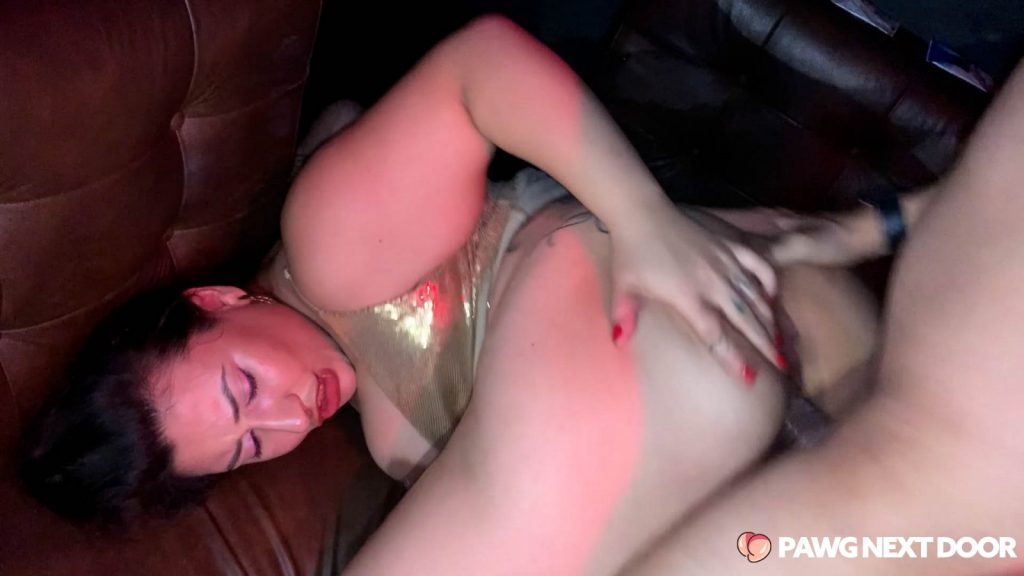 Agatha Ludovino Gets Pounded Doggystyle
Agatha Ludovino bends over to receive more cock! She's enjoying the fun, with her thick ass jiggling in the air. She must be a sight to see from the back! He pulls her hair, he rails her hard, and by now she's not worried about being watched at all! You can tell she's into this by her moans and grinding, but we can confidently say she's enjoying the public fun.
When he pounds harder, Agatha Ludovino clearly doesn't want to stop taking his cock! She grinds her ass on him, feeling hungry for pleasure as he spreads those luscious ass cheeks of hers. He stops in moments just to tease, but Agatha is practically begging for more, spanking her own ass until he restrains her. She's willing to do it all, happily jumping on top to show off that juicy ass bouncing as she rides her partner. By now she cannot wait to swallow a load of hot cum!
Wanna watch Agatha Ludovino fuck in public? You can right now at PAWG Next Door!