Not every PAWG can claim to be the OG, but Claire Dames is the true PAWG legend. PAWGED was lucky enough to have this big booty babe for a scene, wrapped in a neon green bathing suit, with her whole ass hanging out. She can shake and twerk with the best of 'em, showing off her luscious ass by the pool. With each step she takes, her thick ass jiggles, giving you something to enjoy right from the get-go! The luscious brunette PAWG is happy to show off her body, popping her tits out and running her hands all over her curves.
Shortly, Claire Dames takes a seat with some baby oil, slathering her thick body until it glistens. Her round ass takes center stage when she gets on all fours, squirting oil over every curve! She twerks and slides her bathing suit to the side, so you can watch those cheeks clap. Her pussy grows wet, knowing that she's tempting you with every jiggle of her fat ass! She's hot, she's horny, and she's really ready to take some cock.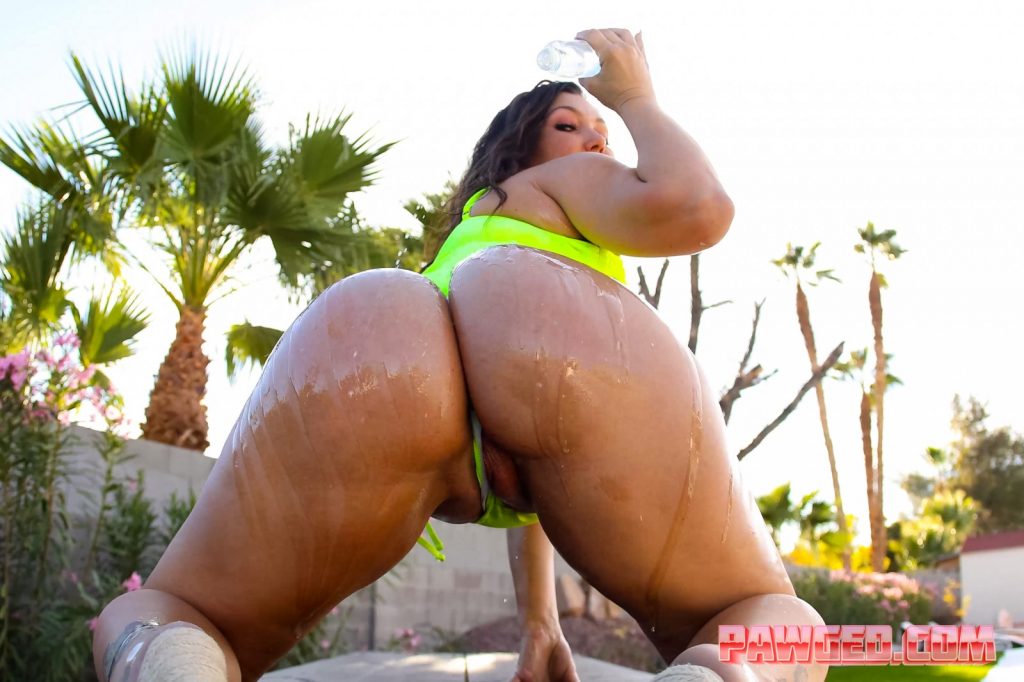 Brunette PAWG Twerks For Her Man
After you get hard while gazing at her glorious fat ass, Claire Dames is ready to get some cock. She gets a partner thrilled with her juicy ass, helping her spread oil over every crevice. This PAWG is loving the attention, moaning as he teases her trimmed pussy more and more. When he begins to rub her wet pussy, she moans with her fat ass up in the air. This naughty PAWG is getting hornier by the minute, and she deserves a man that truly loves her fat ass!
Claire Dames doesn't fuck around! This brunette PAWG aches for more and her man is happy to give it up. She asks to suck on his cock, so he quickly drops his shorts while she lays back to see what he's working with. She immediately starts sucking his cock, while playing with her huge tits. She wants that cock hard and ready to give her a real deep dicking. And who wouldn't be rock hard with Claire and her big fat ass?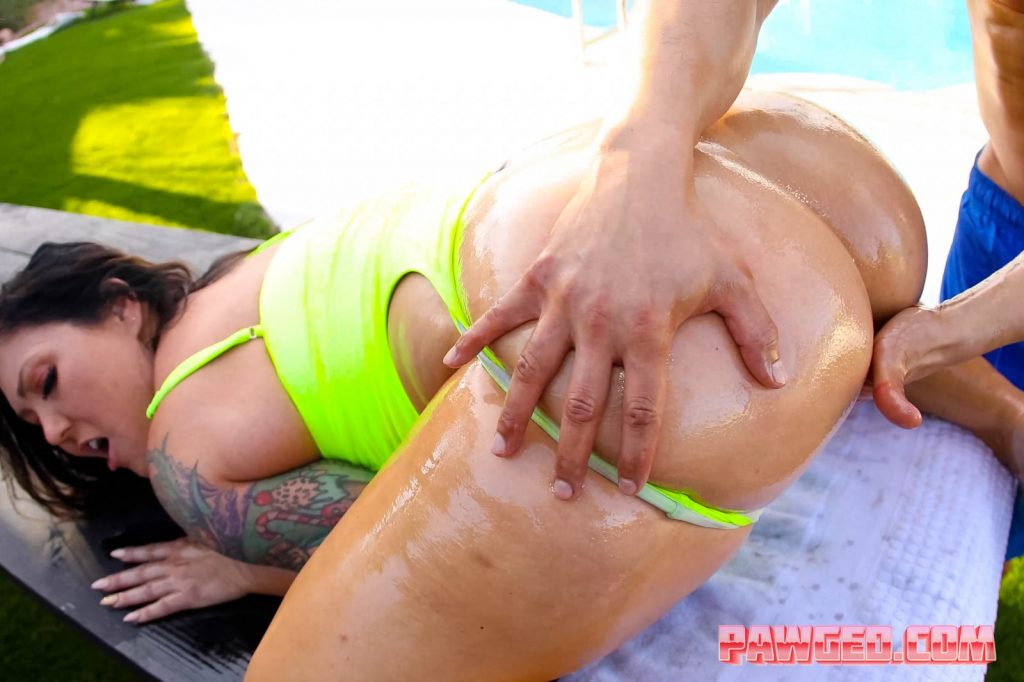 Claire Dames Twerks While Taking Cock
Soon, the bathing suit comes off and Claire Dames is ready to get that tight pussy filled up with cock. He isn't kind while she deepthroats, which makes him rock hard for her. She presents her pussy to him and asks him to slide right in. Her fat ass jiggles when he thrusts, and she moans loudly outside. He gets deep inside that tight pussy, and she keeps begging for more!
Claire Dames really enjoys the pounding, and he shifts her into every position while she plays with her clit. Those big tits jiggle as she wails with pleasure. He finally makes this fine ass brunette PAWG cum in doggystyle, and she isn't quiet about it. She can take it, and loves getting her ass smacked through her orgasms. She begs for more, hoping to feel his hot cum drizzled all over her fat ass.
You can watch Claire Dames get fucked now over at PAWGED!