Santana Red looks fine as hell, in her tiny red shorts that practically match her hair! This thick ass redhead is the real deal, sowing off her incredible curves, pretty face, and glorious big ass! She's unbelievably sexy from head to toe, giving you something to indulge in with every inch of her thick body. Her thighs jiggle with every shake of her ass, giving you an unbelievable view as she slips off her shorts in this hot scene for PAWGED!
While working her beautiful tattooed body for the camera, Santana Red begins to work her shorts down, to show off that ass, completely bare! when she finally sits back, you get a view of the rest of her body. Santana jiggles her huge tits, setting them free from her tiny top. Her big nipples look dreamy, and this redheaded BBW babe is ready to indulge in more that just a naughty tease. She begins sliding he hands over her shorts, and over her pussy, building your desire for her stunning figure.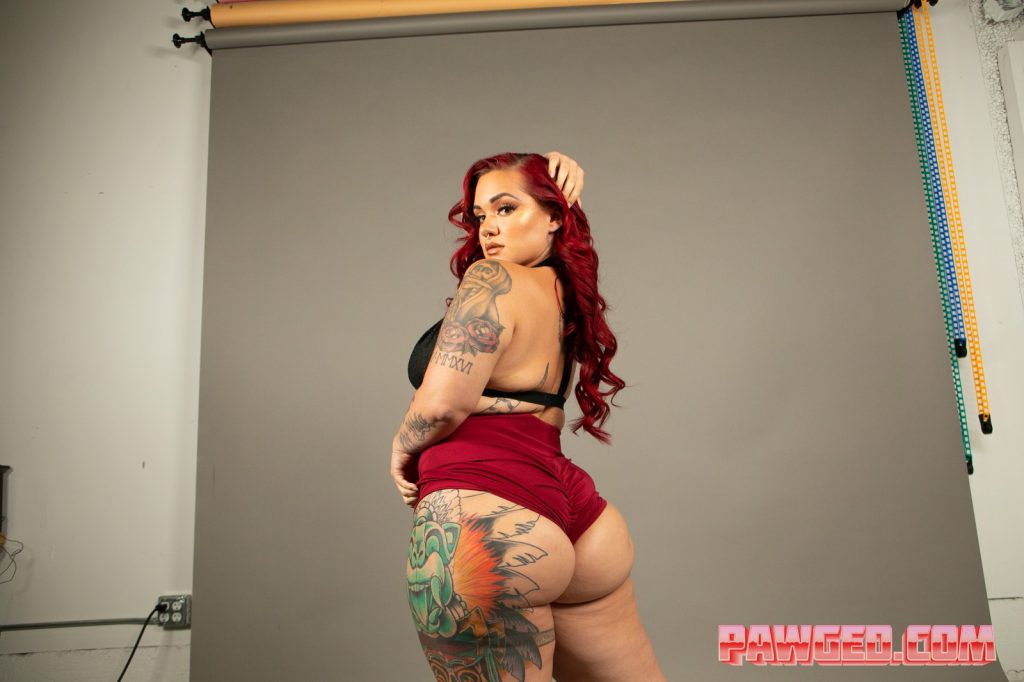 Big Ass Redhead Shows Her Sexy Holes
Santana Red is doing more than just a tease. She fully strips down, bending over and twerking with a bare ass and shaved bald pussy. This sexy, thick Latina is aching for more fun. She shows off her talents with outrageous twerking and booty shaking, creating a jaw dropping view of her shapely body, bent over and ready to receive.
This thick Latina makes that fat ass clap, and we're dying for more! At this point, we're pretty sure Santana is aching for more, too. When her scene partner enters, he is thrilled to see the glorious ass before him. Soon, his big black cock is hard and ready for her, but not before she performs a super raunchy blowjob for the camera.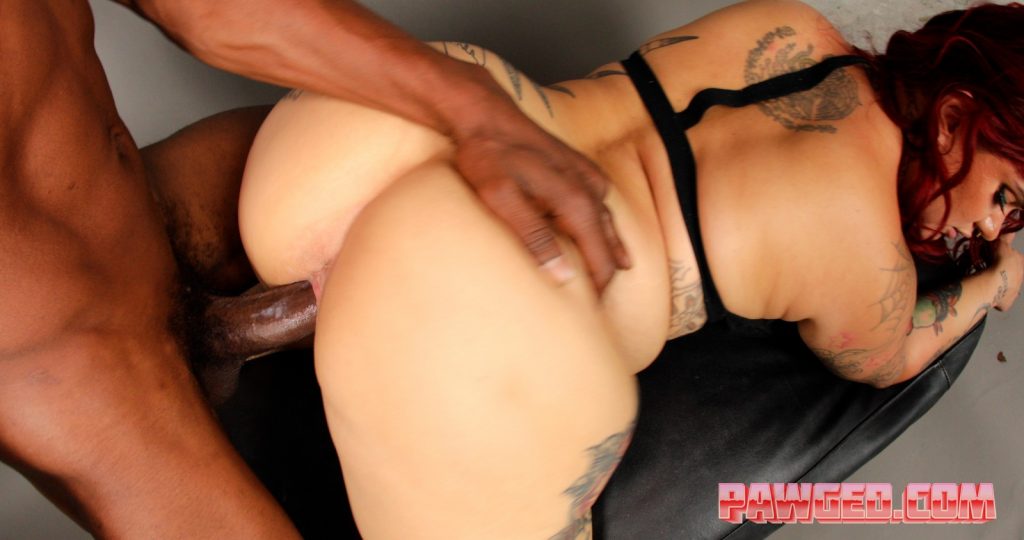 Santana Red Aching For a BBC Creampie
Santana Red has been busy twerking and fingering herself. It's only natural that this thick ass redhead is ready for more real action from a REAL cock! She's bent over the couch, after having played with herself enough. That luscious, glistening ass is a treat, and this beauty is deserving of a hard fuck! Her scene partner first delivers more foreplay to get that pussy soaking wet and ready for his huge cock. She loves every minute and rewards him by dropping to her knees for a blowjob. Seeing her gorgeous hazel eyes look up at the camera as she blows is fantasy fodder, and she takes her dick sucking seriously!
After Santana Red delivers a slobbery wet blowjob, she bends over in doggy style. Her thick ass bounces as she's pumped rhythmically, enjoying every big of cock she's been aching to receive! She bounces and twerks, enjoying getting that cock buried as deeply as possible. Every hard pound into this beautiful redhead Latina's tight, fat pussy makes her moan so loud! You'll get more and more envious when you watch those tits bounce with every thrust!
You can watch stunning Santana Red fuck now, for PAWGED!