Sexy big ass MILF Charley Hart is ready to get naughty! Those are the words she uses to invite you into her tease in this solo scene for PAWG Next Door! This bubble butt blonde is looking as fine as can be, in her loose, unbuttoned top and black lingerie set. She's got a badge and nightstick, and she's about to show you why she's the real authority around here!
Sexy Charley Hart moves that thick, curvy body around. She begins flipping up her shirt and showing off that sweet bubble butt she has! This Big Ass MILF wants to show it all, and traces her curves with her nightstick while she bends over. She wants you to worship that ass, and we couldn't blame you if you did! We would, too! She's got a lot of fun in store for you! She wants to make sure you get that delicious MILF ass in all its glory!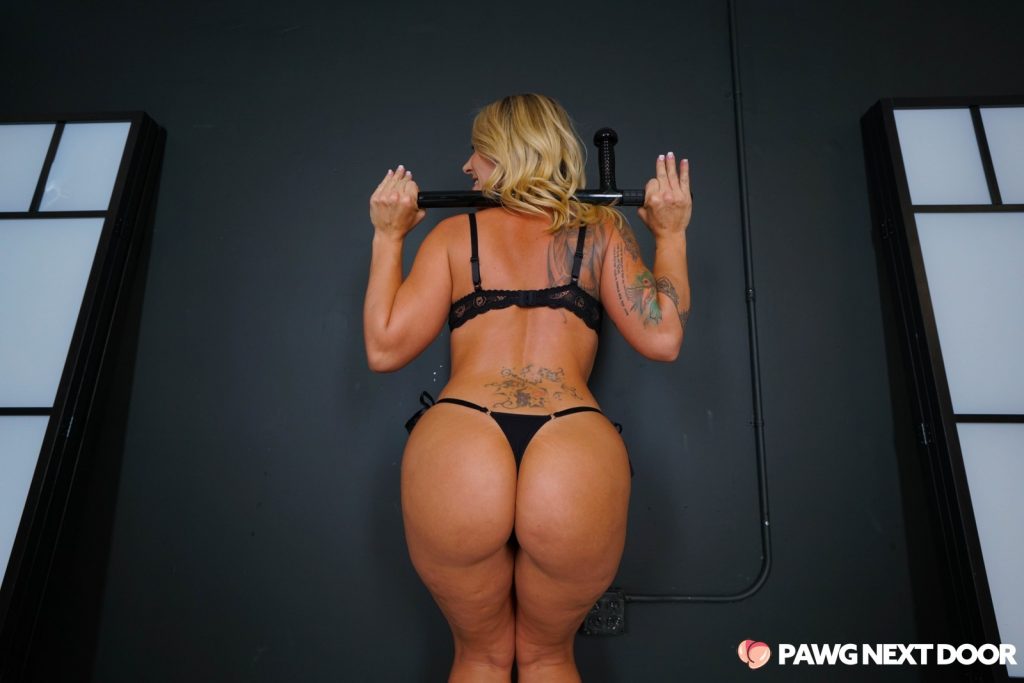 Big Ass MILF Oils Up Big Juicy Ass
Charley Hart looks mighty fine in her lingerie. She's not about to reveal too much yet! She think you'll want to use your baton on her. She's going to do all the work today, so you can sit back and relax. Now watch this big ass MILF get the job done, herself! Charley may have a big black baton in her hand, but she's hoping for something a little more realistic. She whips out the toy she really wants, and no surprise – it's a huge Black dildo! She slips it between her breasts and chokes herself with it, giggling as she begins to slip off her lingerie.
The scene begins to heat up, when Charley Hart begins to work her trimmed up pussy! She slides her dildo in, and you can hear that she's already soaking wet! This scorching hot blonde MILF smacks her ass, pounding herself with her toy! She's clearly enjoying herself! She pounds herself harder and harder, making herself cum.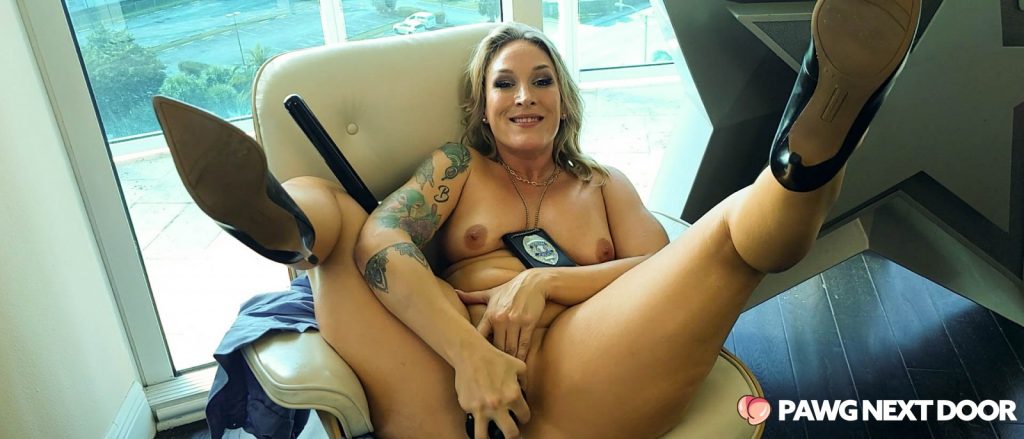 Blonde MILF Charley Hart Cant Stop Masturbating
With breathless moans, Charley Hart continues to pound her pussy with that big black dildo! She leans back and cums again. She's still not done, though! She grabs hold of that dildo one more time, and slides it into herself doggystyle, twerking her ass with each thrust!
Charley Hart moans so loud continuing to make herself cum hard. She keeps smacking that fine, juicy ass and finishes to a taste of her own orgasmic juices on her fingers. This big ass MILF is passionate, even when she's just fucking herself!
You can watch this sexy, big ass MILF Charley Hart now at PAWG Next Door!