Did you know Lolly Dames is a big booty MILF that can make her ass clap?! We recently watched this scene for PAWGED, and enjoyed every moment of fun! We think you'll love watching this big booty babe shake her ass for the camera. This MILF shows her body covered in tattoos and she's as frisky as can be. She'll tempt you with her raunchy moves. Her ass hangs out of her tiny shorts, and her big tits bounce!
This scene starts with Lolly Dames standing in the shower, flaunting her stunning curves as she dances all by herself. We are watching with eyes wide open, unable to take our eyes off this blonde big booty MILF! She flipped up her top and showed us her boobs, and that put a big ol' smile on our faces! Lolly continues to strip, which primes us for the raunchy shower fuck she's about to begin!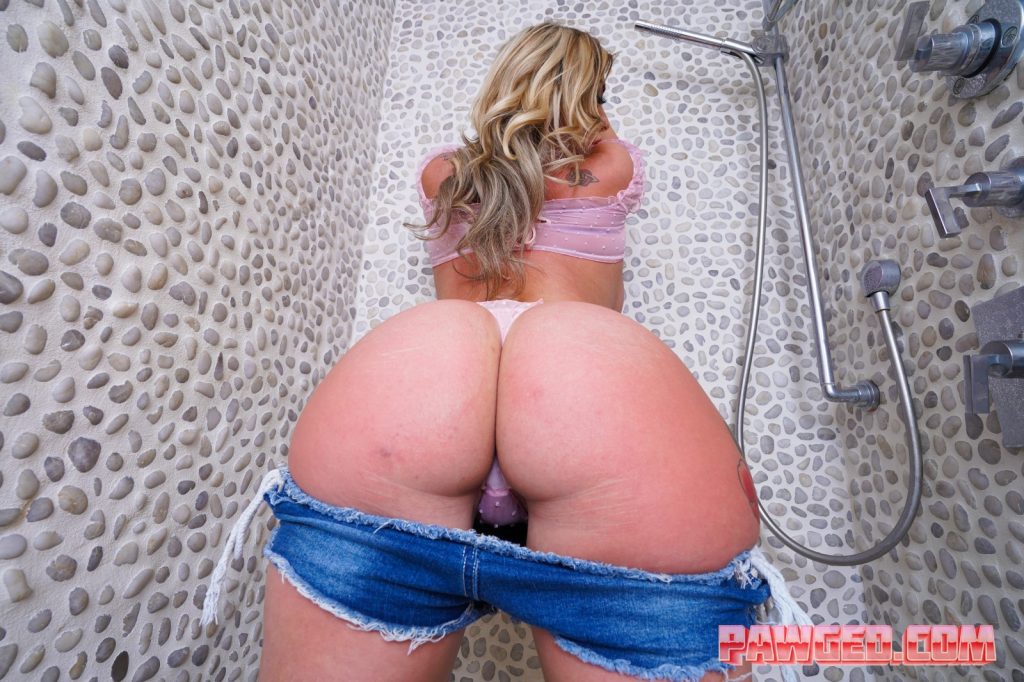 Lolly Dames Claps That Ass
Now you can watch her shake her ass, you may feel slight surprise! This white girl can even clap her ass! Lolly Dames has hell curves and knows how to work her thick thighs, now covered in oil. This babe shakes her ass in her thong, giving us a nice, long show of solo ass worship. Now, you see that it gets even better when this big booty MILF moans and shakes that ass! She's even drizzling more oil over her booty!
Lolly Dames flips on the shower and slips her thong down her hips, soaking her curvy body with water. Now that this blonde babe is all wet, there is no need for her clothes. The lovely MILF moans while dripping water over her pretty, trimmed and pierced pussy. She even has hot tan lines! This big booty MILF is hot, horny, and ready to take on a big Black cock! Do you think she can handle it?
Big Booty MILF Loves Big Black Cock
Booty and Black Cock go hand in hand! This hot blonde MILF is ready to get it on with her scene partner! After a long, playful shower tease, she's ready for more. Furthermore, we are focused on her huge boobs getting soaked with water and oil, and want more! We think Lolly Dames is pleasing to the eyes, but also fun when she's getting fucked! You'll get the raunchy hardcore you desire!
This is a generous tease, and one you're riled up with Lolly Dames and her raunchy oil fun, it's time to heat it up! She treats you to a little water masturbation! Lolly loves the water flowing over her pussy, and it's warming her up to receive cock right in the shower! Now, you see how she gets with her man! After his, her scene partner enters the scene and she asks if he's ever been with a PAWG before! Lolly is a big booty MILF that has PAWG written all over her!
If you want more of big booty MILF Lolly Dames, you can enjoy her now at PAWGED!