Whoa, isn't brunette PAWG Vivian Taylor a luscious treat? This fine young brunette has a bangin' body and a stunning face, and she cannot wait to show off her big fat ass in this scene for PAWGED! She knows she's a PAWG, and her juicy curves are a spectacle to see! This brunette beauty has big green eyes, a pretty face, and her teasing will drive you insane! She's got a thick body that looks diving in her red lingerie and she's happy to show it off!
Vivian Taylor is tattooed, and vivacious and happy to show off her big thick ass. She begins to strip off her lingerie bit by bit, teasing you, and hypnotizing you with her juicy ass! We don't know about you, but she is the kind of girl we'd love to take home, ourselves! Vivian expertly teases, bending forward and showing off the goods before she ever drops her thong! She knows you really want to see that ass move, in the nude. This beauty is going to show you wha she really likes!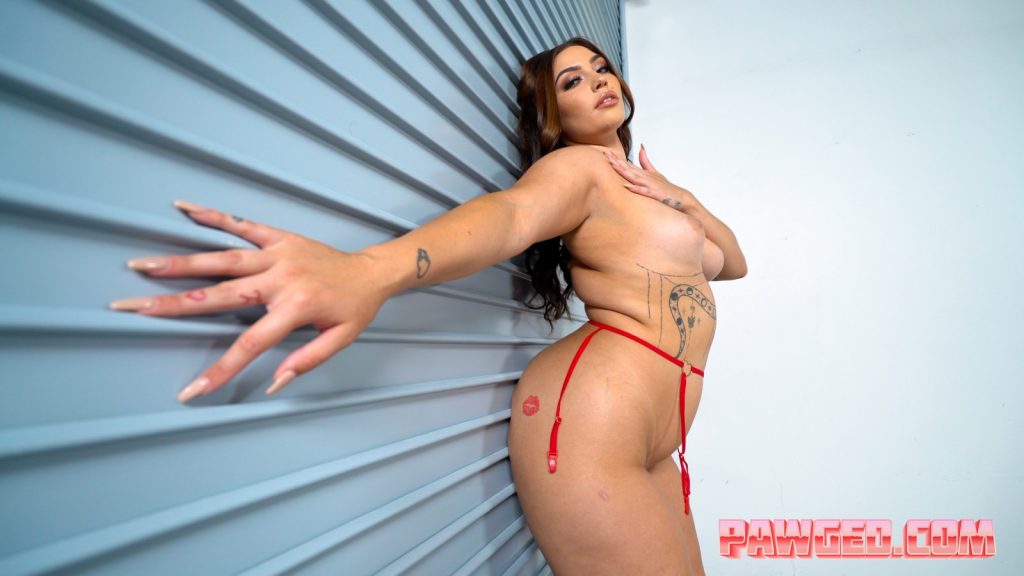 Brunette PAWG Shakes Fat Ass and Strips
As soon as Vivian Taylor begins to peel her thong from her ass, we were overjoyed! Her skin looks smooth and sexy, leading to her fat pussy lips you can see from behind. She bounces that ass and turns around for a full view of her trimmed up pussy and beautiful natural titties. This is when she really starts to turn up the heat, spreading her pussy lips right in front of the camera, with a smile. This hottie is ready to get pinned up against the wall!
The brunette PAWG continues her raunchy tease, now totally nude. Vivian Taylor knows what she's doing, and runs her body down as she shows off those thick thighs and fat ass! She's simply building you up, while she eagerly awaits the Big Black Cock she's about to receive! She spreads her legs and shows off her pretty pussy one more time, before she gets rewarded with a big Black cock!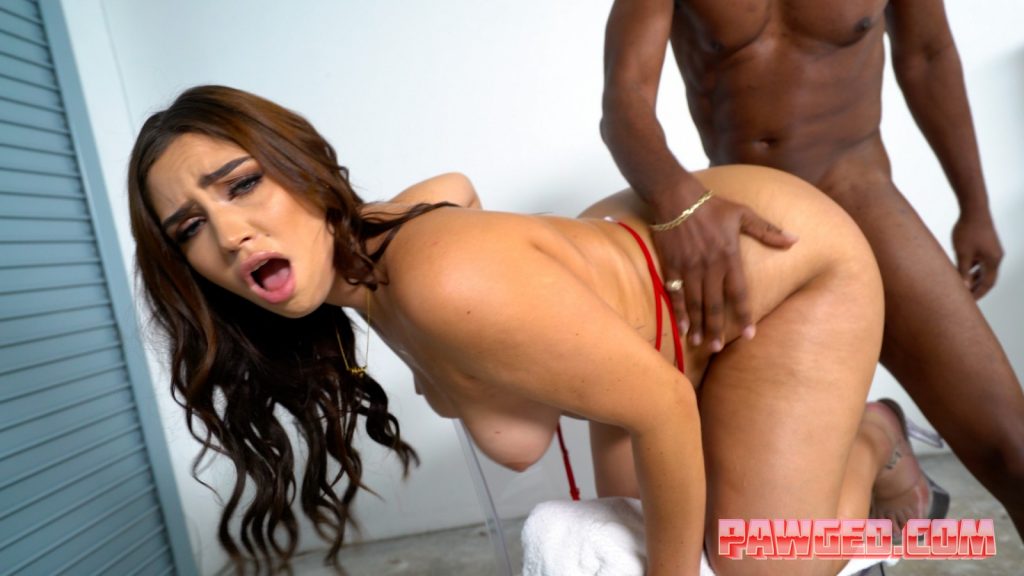 Vivian Taylor Thick Brunette Gets Big Black Cock
We start with luscious Vivian Taylor sitting in a chair, with her fat ass sticking out. She bends forward to suck the big cock she's presented with, moaning as she strokes him hard. This babe is getting hornier by the minute, and we love watching those big green eyes bob up and down! She doesn't let him cum, because this bodacious PAWG needs to feel some cock in her pussy, and we can't blame her! when her partner takes a seat, she climbs right on top of him, sliding her pussy over his huge cock! She starts bnouncing her ass right away, moaning as she goes.
Vivian Taylor deserves a good ride! Watching that thick cock in her pussy from behind is even better when she really gets going, with those cheeks slapping his thighs. She loves every inch and works hard to get herself filled to the brim with cock! Her pussy drops all over, lubing up his cock for easy gliding! Things begin to heat up even more, when this brunette PAWG is bent over, so she can receive a deep dicking doggystyle! Not only do you get to watch her fat ass bounce, but you get to watch that pretty O-face when she finally cums.
You can enjoy Vivian Taylors big fat ass yourself now, at PAWGED!