Beautiful Nikki Cheeks certainly adds to the bayou beauty with her luscious PAWG body, as she enjoys the weather in her bikini in this scene for Just POV! This hot blonde is showing off her curves, her tattoos, and her pretty face. Nikki doesn't want to be bothered, but she gets bothered anyway, with he bhost of this scene. He tells her that she's perfect, as he's an adult talent scout. Suddenly, this blonde is a "slut for the camera". Well, after some convincing. He flatters her and she begins to warm up to his advances, feeling more and more willing to let him film her.
Soon, she's flashing her tits at him and even strangers. This raunchy little tease from a stranger turned her into a slut! She gets more and more turned on at the pure exhibitionism she's experiencing, and happily comes over for some POV blowjob fun. She shows off her tongue piercing as she takes his cock in, slurping his cock with a smile. It starts to rain, and they know it's time to move this naughty fun inside.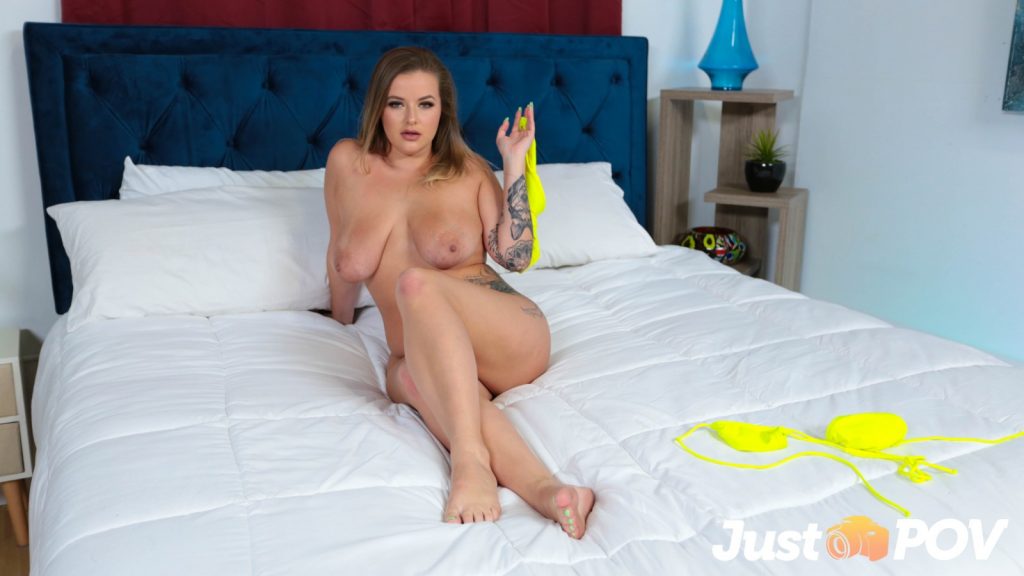 Bringing the Bayou PAWG Inside for Hardcore
Nikki Cheeks tucks her big tits back into her bikini top while the two make their way back to his place, to continue the fun they were having outdoors. He walks behind her, enjoying the views of her ass as she walks. They get home, and she walks right in, happy to begin the filming process of being in a porn. That didn't take a whole lot of convincing! This naughty blonde starts stripping off her bikini, while artfully leaving her does on. Perhaps she's a natural or perhaps she's just a slut, but we really like what we see.
She lets those big tits hang free, fondling them se she teases in bed. She starts playing with her trimmed pussy and licking those nipples as her big natural tits bounce. We love watching her solo play! Soon, this naughty little blonde is ready to have her pussy and huge nipples fondled by someone else, and she strips her partner down enjoying the size of his cock.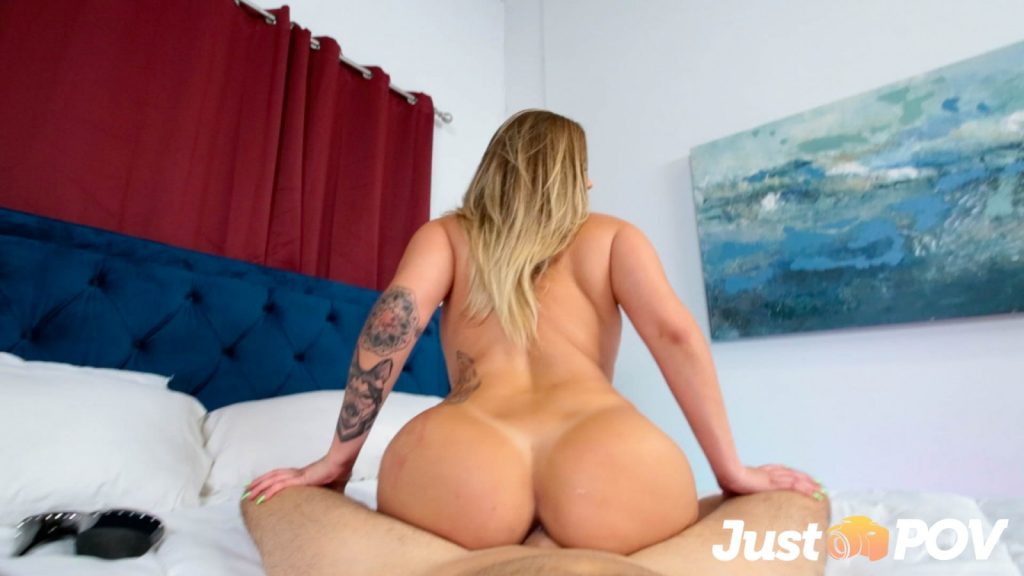 Nikki Cheeks Takes Big Cock in Reverse Cowgirl
We love a PAWG with hunger for cock, and Nikki Cheeks cannot wait to devoir this one! She starts with a blowjob, slurping and twirling her tongue around it, excited to find out what it will feel like in her tight pussy. She starts gagging on that cock, eagerly showing off her skills. After all, she's excited to be on camera too! Watching her work a cock is so much fun, even if you simply want to watch this horny blonde get penetrated, we suggest staying and watching the whole thing!
Nikki Cheeks begins by choking on that cock, and is happy to continue the fun foreplay with her huge natural tits. She gets on her knees offering a combination titty fuck, blowjob, and handjob. Whatever she can do really, to handle this monster cock before it slides right into her tight pussy. She turns around, taking him inside of her slowly in reverse cowgirl. Her juicy ass gets smacked and grabbed, while she works his cock over hard.
Enjoy more of Nikki Cheeks and her sweet pussy now at Just POV!