Get a load of stunning blonde minx Paris Banks, showing off that big fat ass for PAWGED! Her fishnet swimsuit doesn't cover a damn thing, but we're more than grateful to enjoy those luscious curves. Since it's a thong 'fit, to boot, you can see everything. This isn't your run-of-the-mill sex appeal. This PAWG knows how to work that ass and show off her huge tits. The stunning, tattooed blonde is good at twerking and shaking those curves so you get a hell of a show while waiting for the hardcore fun.
Paris Banks shakes her ass and teases, until she steps into the pool. What's better than a hot big ass blonde, who is also soaking wet? Her body looks fire as she teases in the pool water, anticipating more ass worship. We're sure you are too, because this crave-able vixen is more than desirable. She lets her big tits out and spreads her shaved pussy lips as she sits on the edge of the pool, craving more than her own fingers.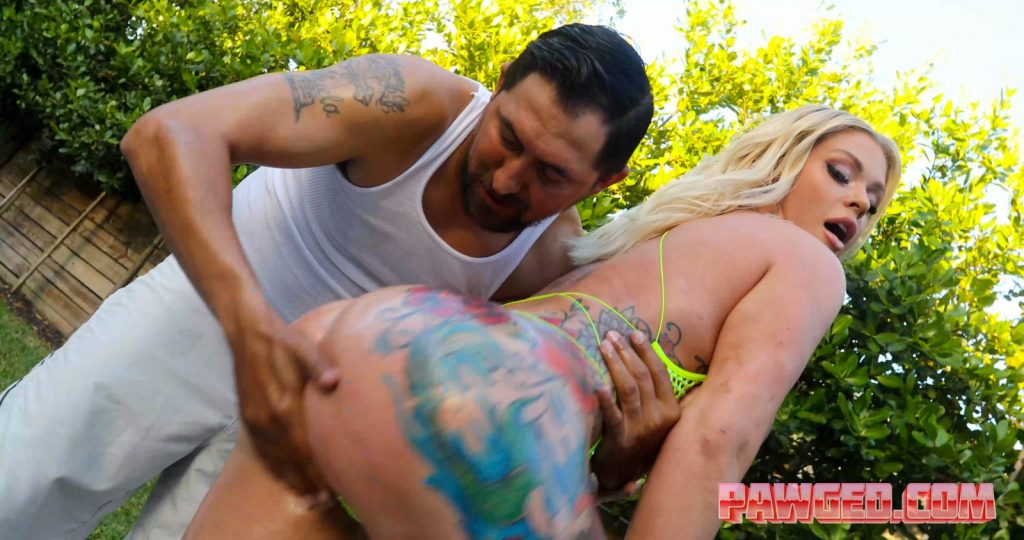 Big Ass Blonde PAWG Rubs her Clit
This beautiful blonde certainly loves a tease! Paris Banks begins teasing herself as much as she's teasing you, rubbing her pussy in the great outdoors. Her long fingernails add to her own self stimulation as she rubs harder and harder with her huge tits out. This fun blonde cannot wait for more, but she still doesn't have that swimsuit off yet!
She doesn't need to have it off, to capture the right attention. Paris Banks needs to get dicked down, and she can easily find someone to do it. Juan Largo walks by, hard at work, noticing this curvy blonde with her huge tits out at the pool. He's startled but she's not shy. She'd much rather have more of his attention now that he's seen her. She invites him over to oil up that juicy ass, because we all know that an ass like that begs to glisten.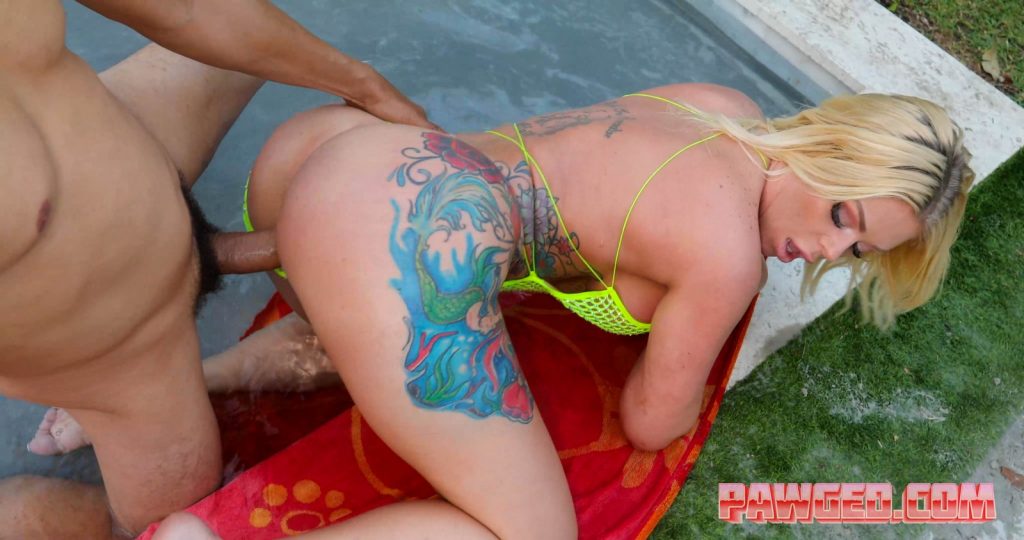 Paris Banks Makes Her Ass Clap Hardcore
Juan leads Paris Banks through some ass shaking, and gets her shaking that ass right! It jiggles in the perfect way to showcase her big ass and even claps for us. This big ass blonde continues to tease Juan with her curves, putting his hands full of oil to good use. She's so talented at working that ass, but we really want to see how she sucks cock.
After a healthy dose of big ass blonde babe ass worship, Juan begins really turning her on, sliding his hands into her pussy. In comes the dirty talk, and Paris Banks is craving a bit more fun than just ass worship. Her pussy. She gets on her knees in the pool, happy to get her hands on a huge cock. She sucks him hard, and leads him right to her pussy, begging for more and more so they're both fully satisfied.
You can enjoy big ass blonde Paris White yourself, now at PAWGED!