Not only is the patriotic Lila Lovely a smokin' hot PAWG, but this blonde is aching to make it a really hot Summer! This scene for PAWGED has been driving us wild from the start. She begins immediately showing off exactly what we want to see. Her thick ass bounces almost in slow-mo, accentuating every jiggle while she twerks. This bikini clad blonde is ready for some fireworks to really go off. We're pretty sure they're in your pants.
Lila Lovely continues her tease, rubbing her beautiful body down and shaking her huge tits! Not only does this blonde PAWG have an incredible ass, but she has a massive pair of tits to play with too! She grabs hold of them easily in her little bikini top, massaging them right in front of the camera. You can bury your face in that monster cleavage, if only she'd let you. For now, you'll have to settle with a spectator view of this luscious blonde, while she teases you with those curves.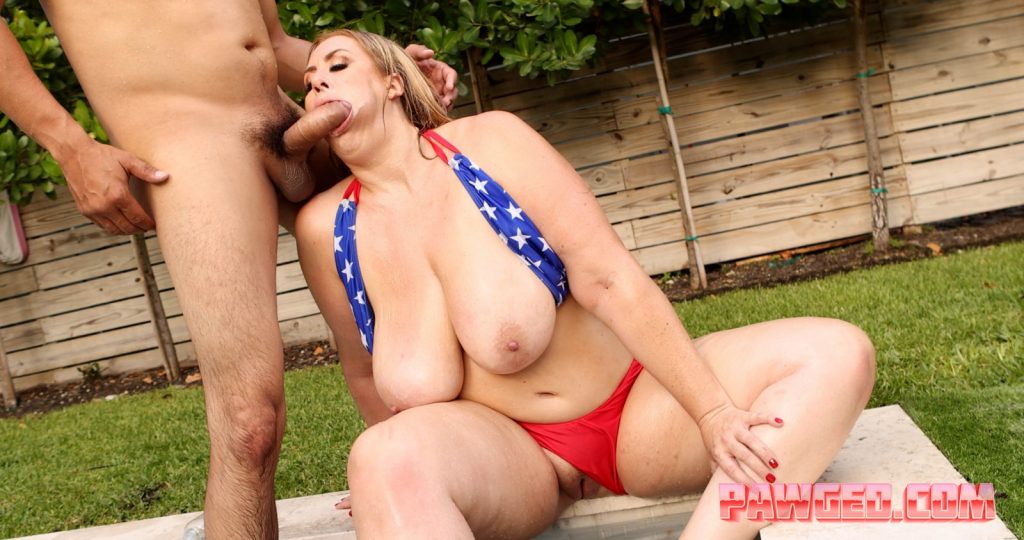 Blonde PAWG Strips from a Bikini
Lila Lovely is beautiful, without question. Her flowing, long locks, curvy body, and her well-manicured hands complete the beautiful package. She begins to turn her tease up a little more, pulling her bikini bottoms to the side and rubbing her pussy. She shows off her shaved pussy and begins to work this big tits out of her bikini top. This luscious BBW plays with those massive tits, pinching her nipples and letting them jiggle freely.
If you're turned on already, we're not surprised! Lila Lovely's scene partner is watching the blonde from the sidelines, waiting for his time to shine! She continues her tease, shaking that fat ass for you one more time, before she slips off her thong. She bares her breasts, and aches to get that big ass spanked! It's about time for this blonde PAWG to get some real action.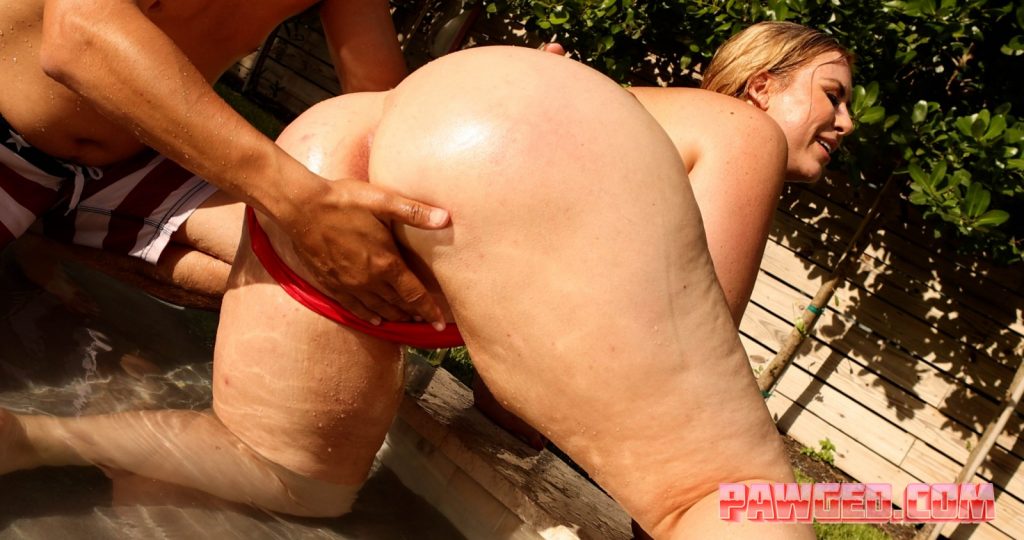 Lila Lovely Blonde MILF Fucking Outside
That's about all that's patriotic about this scene, as Lila Lovely begins to get her needs satisfied. They begin in the water, as she gets those curves nice and wet. She works her own bare pussy over while she awaits the taste of some cock. This horny blonde creates orgasmic magic in the sunlight, waiting to be fed some cock. Before that, however, she gets her fat pussy devoured, right in the water. Then, she finally gets the cock she craves from her partner Juan, happily driving his cock down her throat.
This is when Lila Lovely gets even sluttier, gagging on his cock while her own spit dribbles down her chin. Lila loves getting her throat pounded, but deserves a lot more pleasure. This blonde PAWG is ready to get pounded, right in the sunshine! She begins on top, so you get a full view of that ass getting clapped, while she cries out with pleasure. The action continues, focused on this BBW beauty's ass, ensuring you get exactly what you are craving.
You can watch Lila Lovely get down now over at PAWGED!