The legendary blonde Big Booty MILF Lolly Dames is the star of these scene for PAWGED, and she certainly demonstrates that she is a STAR! She's a bonafide MILF with a big juicy ass, and she isn't afraid to show it off. Lolly is wearing nothing but a hot pink bodycon dress that is little more than mesh. It certainly doesn't keep her ass and tits in line, but she's happy to show them off. She twerks as her dress gets hiked up, showing off her shaved and pierced pussy. This pleasing sight is how they kick off the scene, to make sure you're wanting more of Miss Dames.
This Big Booty MILF twerks for a good long time, letting that ass clap for the camera. The camera pans all around her gorgeous MILF body, showing everything from her fit figure to her big tits. They even get close up shots of the jiggly fun! One excellent thing about these guys, is they know you're here for ASS, and give you lots of ass worship to enjoy. Lolly Dames happens to know how to show off that ass, and is encouraged to get as filthy as possible.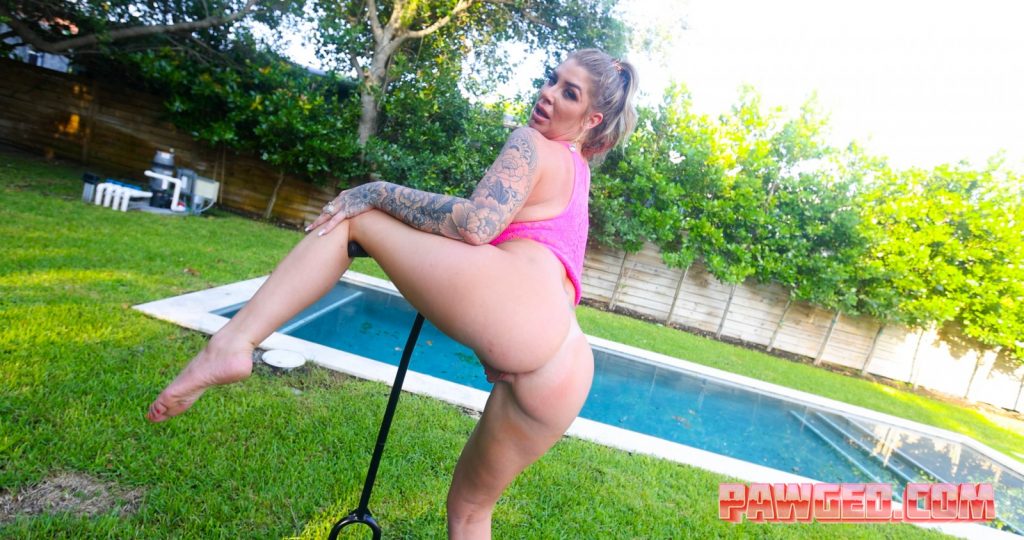 Big Booty Blonde MILF Twerks and Teases
In this scene, Lolly Dames takes full advantage of what she's given. Both with her god given curves and a trampoline she plays on in the yard. The sun is shining, but we're enjoying this full moon much more. Lolly gets up, ass first, and does the thing! This big booty MILF takes full advantage of the extra bounce the trampoline provides, even getting down on her knees for some proper ass worship. Her ass is clean, her pussy is shaved, and this busty MILF goddess is ready for more than just a tease!
Lolly Dames is ready to move forward and get a taste of some BBC! This trampoline tease was enough for her scene partner, to make sure he was good and hard and ready to roll with her! She welcomes his cock with an open mouth, pleading for some red hot hardcore action. She grabs him with both hands, submissively taking his cock down her pretty little throat.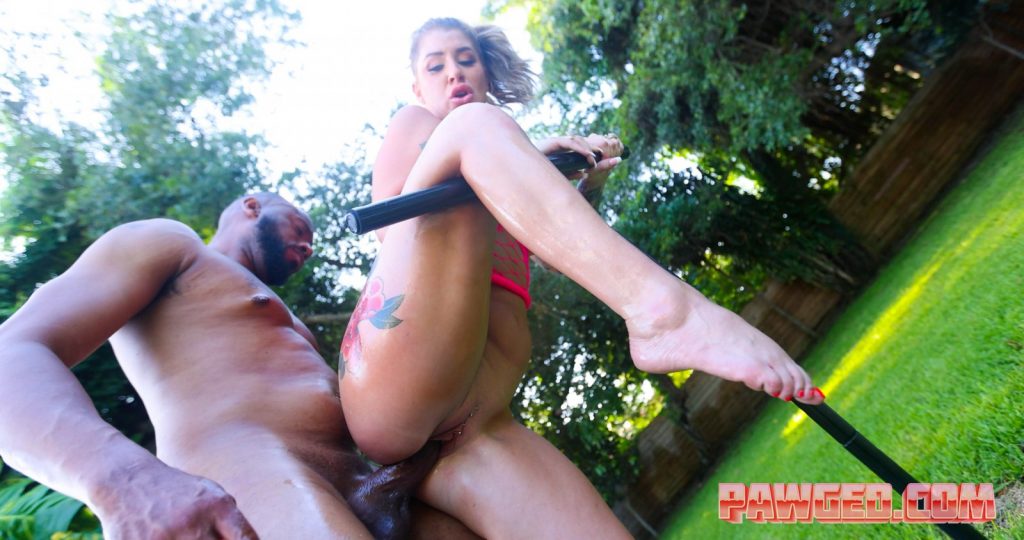 Lolly Dames Gets Ass Smacked and Takes BBC
Lovely Miss Lolly Dames gets her beautiful ass oiled up and smacked around by her partner. He cannot wait to stick that huge cock into her tight holes. Lolly makes sure he's ready to roll, bouncing as she bobs her head on his cock. You'll get to see her from all angles, with her pussy wide open, ass bouncing, and her mouth filled with cock. This Big Booty MILF is so eager to fuck, but she makes sure her man is satisfied in every way!
They remain on the trampoline, while Lolly Dames keeps her mouth all over his cock and balls. She really does a number with her mouth on his cock. Then happily bends over once she's ready to let him fill her holes. Of course he gets in several ass slaps on that juicy ass when he slides right in, keeping balanced on the trampoline. These damn near acrobatic skills serve them well, and she's able to take his ass while only supporting herself on the trampoline bar. That's talent I like to see in a Big Booty MILF!
Get a taste of Lolly Dames fucking now over at PAWGED!