Elisa Rae is a big ass MILF, and she's happy to show it off! This PAWG Next Door scene has this fresh face ready to get slutty, in her little skirt and "Feeling Slutty" shirt. She's more than willing to show off her thick thighs and fat ass, and she even gets a new outfit designed to really show off her curves. She changes right in front of the camera, slipping off her clothes and taking what she has been given to see if it helps her show off even better! She strips naked, and slides on the very revealing mesh dress.
Now Elisa Rae can show off. She's got a pretty face with bright blue eyes, and she just listens and does exactly as she's told. She strips it off and bends over for the camera, showing off her thigh thighs and fat ass as she tosses her clothes to the side. They're continually trying new outfits, until they find just the right fit for this big ass brunette!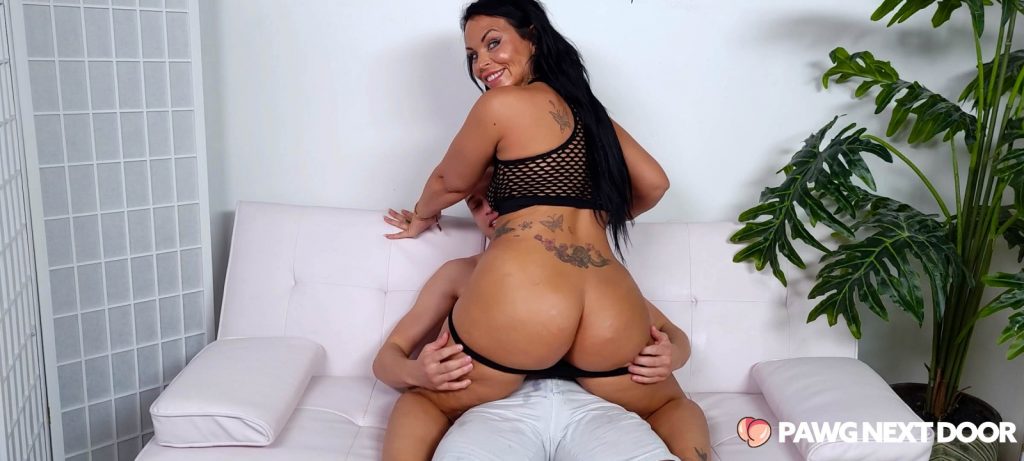 Big Ass MILF Changes Outfits and Shakes Ass
Elisa tries on another outfit, and they don't quite know if this is a winner! Still you get to watch Elisa Rae strip multiple times, shaking her ass in each outfit, and showing off her natural body completely naked, in between. She strips off that outfit and tries on just one more. Third time is still not a charm!
Elisa Rae happily tries it on. This blue outfit is extremely tiny and tight, and it leaves her ass completely visible and available to play with. The guys decide they like the second outfit best, and she strips down yet again, bending over for the camera and slips on the sexiest black outfit once more. By now, you've enjoyed her ass jiggle multiple times and she is finally ready to play!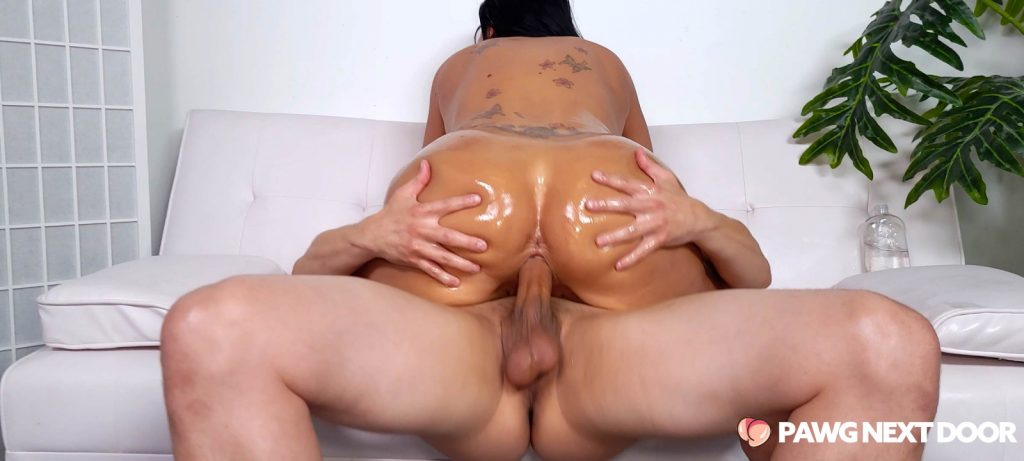 Elisa Rae MILF is Ready For Hardcore
The assistant is the one that gets to fuck this MILF! Now that Elisa Rae is all ready, they oil her up for some real ass worship. He's so excited! Wouldn't you be? He gets a PAWG MILF all to himself! She straddles him while he shakes her ass and slips off her bottoms. He spreads her ass wide, and he is more than ready to take her on, himself. He strips her down and begins to play with her body. Be begins slipping off his own clothes as he drops more oil over her curves.
The big ass MILF is loving the attention! She is getting more and more turned on as they rub her entire body down. Soon, Elisa is moaning on his cock as she rides him, with her big ass shaking. When she's in control, her ass shakes even more! This sexy MILF is led through a number of positions, highlighting her big ass while her shaved pussy gets pounded. She's down for whatever, and her curves glisten the entire time as she works to receive a hot load of cum!
You can watch sexy Elisa Rae get fucked now, over at PAWG Next door!