We think it's easy to slip off into fantasy with gorgeous PAWG MILF Lolly Dames over at Just POV! This naughty blonde is as slutty as can be, in her bright orange dress that barely covers up her firm body. She's completely dolled up, without any panties on flashing her piercings right away. She loves showing off this surprise, hoping she will make you cum very hard, today. She knows you're craving more than just her pretty face and shapely legs! This Just POV scene definitely ensures to give you lots of big fat ass!
Lolly shows off her pierced pussy, and stimulates herself just a bit. This naughty MILF tease has a whole lot more in store for you, as you watch her seduce in POV. Lolly has so much to show you! First, she shows off what you really came for: that big fat MILF ass! But her partner wants to see more of those luscious titties she's been hiding. She may be a PAWG, but her tits are a spectacle of their own, huge and freely handing with pert nipples. She strips down her dress to continue her filthy show…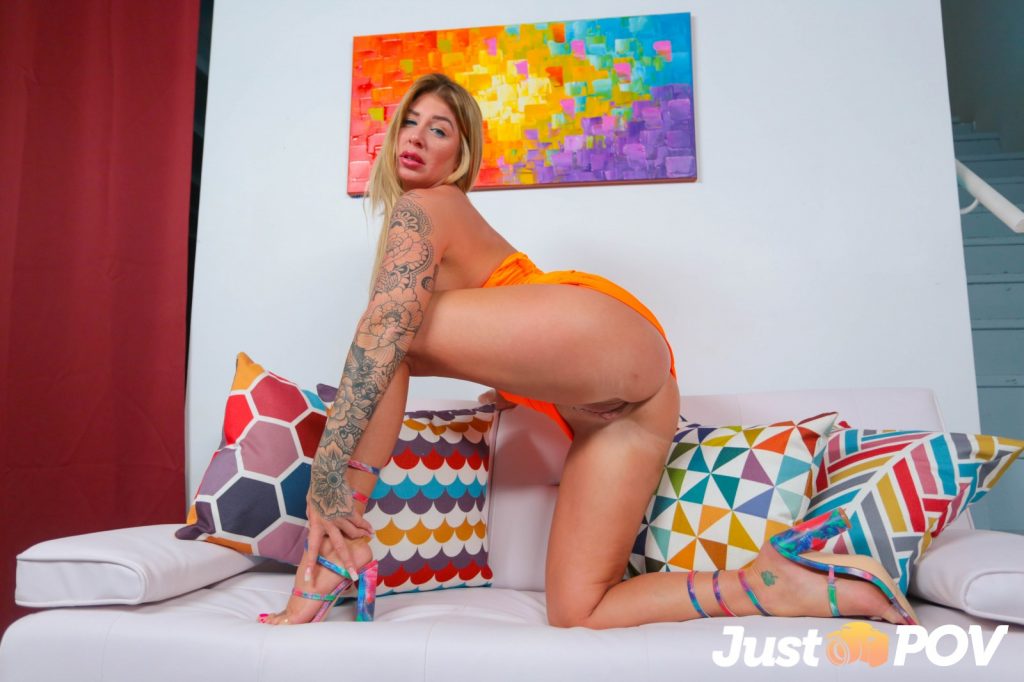 PAWG MILF Oils Up Her Round Curves
This PAWG begins with some lube over her big tits, making them shine as she jiggles them. They're enough to make your mouth water. Her pussy is getting super wet as she teases, finally making her way to oiling up that juicy ass of hers! She continues by laying back and showing off her wet cunt, as she fingers her fat pussy. She even gives herself a few slaps for good measure. With the help of her POV partner, she gets extra lubed up, and moans even louder.
Lolly Dames is eager for some cock now, but continues to fuck herself fiercely with her fingers. She moans loudly practically begging for dick! This raunchy MILF is ready to slobber all over some cock, happily gargling the balls in between strokes from her lips.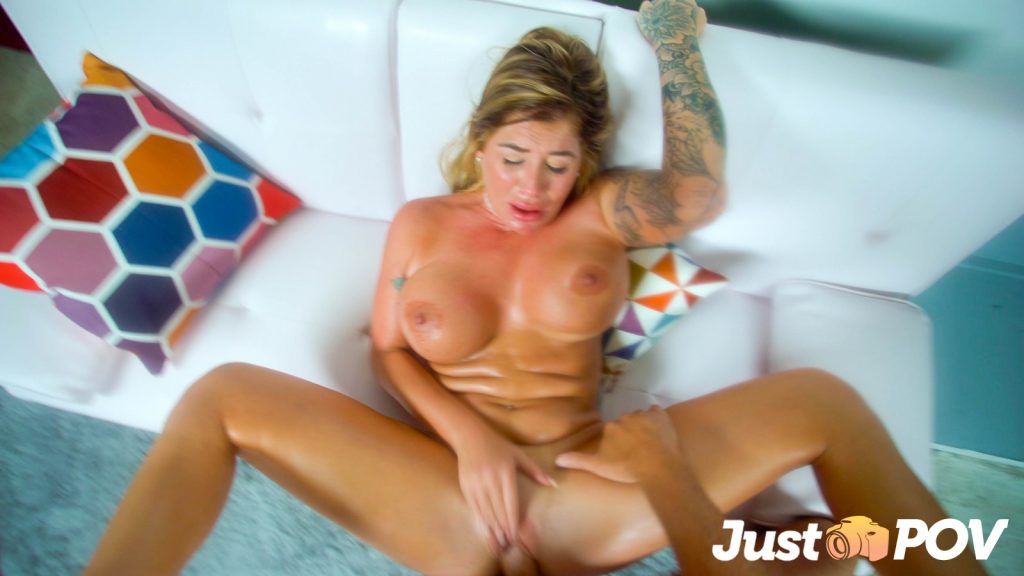 Lolly Dames Eager To Get Fucked
After rousing, slutty blowjob, full of spit, Lolly ensures her man gets all the visual pleasure he wants. From tittyfucking to deep throating, she releases all her sexual tension onto this huge cock! Her hunger is all the more arousing, because you can tell this blonde MILF genuinely loves cock. When she's finally asked if she wants to fuck, she doesn't waste a single moment.
Lolly Dames immediately backs up onto hat big cock, as he drizzles more lube over her glorious ass. You can tell she was extra eager, because this PAWG MILF starts moaning right away, and loudly. You'll soon wish you were the one smacking that big fat ass while she rides hard. Lolly is an exceptional fuck, and doesn't stop utnil she's ready to make a big mess!
Watch this scene unfold now over at Just POV!